Willie Walters, Broker/ Owner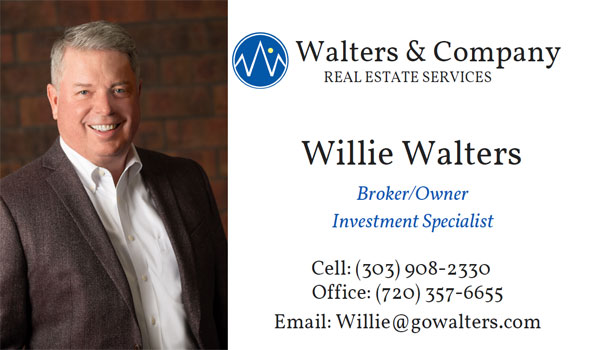 ---
Hi. My name is Willie Walters. After over 30 years as a Wall St. trader, I started a new career in 2013 and became a Realtor. My wife Lizz and I started Walters & Co. in 2014 in order to serve our clients better. Our focus is to provide the best possible service and ensure a great experience to each and every one of our clients. We will truly listen to you and help find that perfect house that will become your home for years to come. Since a home purchase is usually the single biggest investment of your life, my extensive investment experience can help you identify the many benefits of home ownership. For investors, I can help you structure an investment portfolio that will provide stable, long-term income for you and your family. Call, text or email me today to discuss how we can help you build a better future.






Willie-Best realtor ever!! Willie was always there for us and has made buying and sellng our homes an incredibly pleasant experience. He get's stuff done andwent out of his way to truly make us happy! I would recommend Walters and Compnay to everyone and will always work with you all in the future! Thanks for getting us our dream home: Ryan G.

Willie Walters is a true professional. Not only did he find us he perfect home for me, he ensuredmy home was perfect. Every part of the home was inspected and all paperwork pertaining to the home was completed in a timely manner -
Larry S.

Willie and his team were absolutley fantastic in my home search. In addition to being extermely knowledgeable about the housing market, Willie and Lizz treated me like I was family. They got to know my needs as a client and made honest recommendations about the houses that we looked at--if it wasoverpriced, foundation issues, problems to be aware of etc. When it came time to close on the house, I felt very comfortable signing on the dotted line because of the time that Walters and Compnay spent with me and knowledge that they shared throughout the search process. It's really hard to describe in a short review just how amazing Walters and Company was during my house search. However, I think the biggest testament is that I'll be using them for every house purchase going forward! - Russel G.